Price
£12 Advance / £15 Standard
In 2018, Rian Treanor left his home in Rotherham, UK, and headed to Kampala for a residency at Nyege Nyege's villa studio. The mind-expanding experience inspired his critically acclaimed 2020 full-length "File Under UK Metaplasm", but that wasn't the end of the story. Treanor also spent time working alongside Acholi fiddle player Ocen James, developing an improvisation-heavy collaboration that would push both musicians' idiosyncrasies into completely new places.
Treanor wanted this collaboration to be as tactile and reactive as a live performance with traditional instruments, so he set about working on a digital process that would synchronize with James' approach. Using physical modelling techniques, Treanor created an instrument that explored the tunings and sounds of the a'dungu, an arched harp, and the nah or nag. With Ocen playing his rigi rigi, a single string violin, they intuitively experimented with the spectral properties of sound, using texture and acoustic contours as their structural framework. They were able to develop a sound together that was unconventionally rooted in traditional Ugandan culture, but shuttled into different dimensions of noise, computer music and radical UK rave.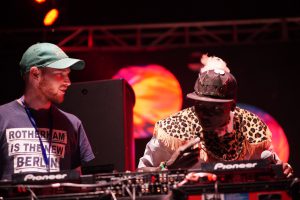 Lucy Duncombe is a Glasgow-based musician and artist, interested in the ways in which transposition of the voice and language onto machinic technologies can disrupt or alter its relationship to the body, dispersing the voice across multiple temporalities, objects and simulated spaces.
Duncombe's previous works include And If I Was A Word Could My Letters Number A Hundred, More Likely Coarse and Guttural, One Syllable Anglo Saxon (David Dale Gallery, 2019), The Yips (Celine Gallery, 2018), Pop Ago, (Counterflows Festival, Tramway, 2018), Labyrinthine, (The National Opera of Belgium, 2015, and BBC 'Here and Now' Tectonics Festival, 2016), a chamber opera co-composed with video artist and performer Anneke Kampman and Jane Dickson.
Feronia Wennborg is a Swedish filmmaker, audio-visual artist and music composer. She explores new cinematic ways of expression and uses sound in film and in art installations as a way to perceive and explore. Feronia has been performing in recent years as one half of the duo Soft Tissue and contributed to THE RAPTURE OF CELLULAR ACCRETION with Lucy Duncombe; a tape, fiction text and artwork completed during the convalescence of lockdown. The work concerns the back and forth sharing of music within the alternate sociality of digital space; lives held within YouTube playlists and cultivated within the ample hamlet of thumbnails, comments, and auto suggestion, with a sense of a 'we' stuck recursively in loops of musical fable.