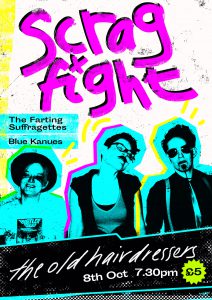 Scragfight are a queer DIY punk band from Glasgow, they play loud guitar music and sing songs on the themes of zombies, glamour horses and woman getting the jail. Amongst other events scragfight have played at bedroom birthday bashes, Ladyfest Berlin and variety shows in the basement bars of Krakow. Scragfight have enjoyed a lengthy hiatus but are back for one night to turn their amps and distortion peddles up to 11.
Quotes: "one big moshpit of jump-about anarcha-feminist fun""wonky rockabilly licks and some utterly ridiculous – and therefore, brilliant – distortion"
Graduates of Girls Rock School Edinburgh, The Farting Suffragettes have been making their mark on the Scottish music scene with their loud and proud punky-funky tunes since 2017. Vocal supporters of women's rights and constructive activism they continue their quest to encourage ALL women to shout louder and dance harder.
 "A band of just such riotous joy and righteous take-no-bullshit attitude with a buttload of tunes that have been known to make you sweat and dance in uncontrollable amounts." Leith Depot, Edinburgh May 2018.