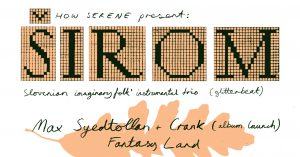 HOW SERENE present:
Širom – so good !
The Quietus agree (number 1 album of year so far midway through 2022, 11th on the aoty list too):
"To catch a glimpse of the sheer spectrum of Širom's sound, imagine a set that includes the mizmar, balafon, rebab, guembri, banjos, hurdy-gurdy, tampura brač, lyre and ocarina, among other instruments. The Liquified Throne Of Simplicity, their magnum-opus, is a double release where each song barely fits on one side of vinyl. The group draw inspiration from the raw bass and trance of Natural Information Society, stretching the narrative from meditative and soothing to a growing wall of sound in 'Grazes, Wrinkles, Drifts Into Sleep'. In turn, 'Prods The Fire With A Bone, Rolls Over With A Snake' begins with a repetitive motif on the banjo, complemented by Ana Karanja's vocals through a stunning crescendo, where violins and choral singing combine into stereophonic polyphony on percussion. This ingenious balancing act is a fantastic counterpoint to the trance landscapes of the Slovenian trio."
Max Syedtollan & Cank (Album Launch)
Hometown hero and some (very) surprising / special guests launch excellent new album.
Fantasy Land
Top weird pop and unchained harmonies fresh from debut album release with GLARC.