Price
£10 for general admission / free tickets for students.
Stephanie Lamprea and James Banner present a set of new works for voice, double bass, and live electronics.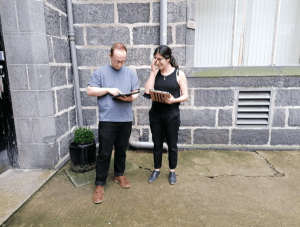 Fuelled by the the explosion of independent artistic activity created by the pandemic, and having collaborated on Vol. 1 of Stephanie's Unaccompanied: Tiny Works for Quarantine, soprano Stephanie Lamprea and bassist James Banner have since developed an understanding of musical priorities characterised by committed and fearless performance and their shared interests in working collaboratively with new artists in interdisciplinary and DIY projects, which seek to push and challenge their own artistic approaches whilst creating socio-politically engaged work. Both are experienced improvisors and have presented solo and ensemble works widely across the US and EU with established composers, festivals and curators working within and beyond contemporary classical, avant-garde, jazz and improvised music, everywhere from grassroots independent venues to concert halls. The 2022 season will see Stephanie and James work together on TEXTS, which has commissioned 6 writers to create new texts for the duo and features guest improvisers from New York and Berlin, as well as continuing to develop and document new works with composers worldwide.
Programme:
Tom Green: "Demeter" from The World's Wife (2017), for Voice and Electronics

Yaz Lancaster: Mulch To Feed The Orchid's Flame (2021), for Voice and Double Bass*
Melissa Rankin: The Birds; They Stare At Me from The Window (2022), for Voice and Electronics*
Linda Buckley: Revelavit (2011), for Voice and Electronics
Ben Gaunt: Concealed/Classified 30 (2021), for Solo Double Bass*
Oscar Ridout: Lines Going This Way and Lines Going That Way (2021), for Voice and Double Bass*
Rylan Gleave: New Work TBA (2022), for Voice and Electronics*
+ improvisations
*World Premiere