Price
£10 advance / £15 on the door
Triple Negative are a London based 3 piece originally hailing from New Zealand (Matthew Hyland), Germany (Anja Büchele) and Romania (Dennis Debitsev).
The debut record 'Precious Waste In Our Wake' (full title written nowhere: "The Fucking Terrible Receding Shapes, We Shed Precious Waste In Our Wake") is an endlessly beautiful, dense and chaotic crawl through so many forms it can be difficult to ascertain what is actually at play. Ostensibly a 'rock' band carved from the same plank as previous outfits Philosopie Queen, The Mean Streaks, etc Triple Negative have shaken a somewhat complacent London with their wildly original blend of chaos and beauty rolling around a maelstrom of politics, spite and humour. Bloodclaat Orange, Fatna Bent Lhoucine, The Associates, Aby Ngana Diop, Royal Trux, Brigitte Fontaine/Areski, and Babyfather are all somehow wished into the scenario, either suggestively, explicitly quoted or manifesting as some malformed degree of inspiration.
God Bless the Death Drive could be construed as a compass to navigate the wayward wonder we inhabit or it can just be enjoyed. This second full length steers into scathed realms of everyday junk and poignant punk, all pressed down on the lowest quality ethylene and chlorine.
VIDIV – We are a loose collective of musicians and artists based in Glasgow. The need for physical and social renewal through ritual interests us as artists and musicians seeking deeper and more visceral meaning in our work. We intend to banish capitalist, exploitative and passive forces of control through our approach.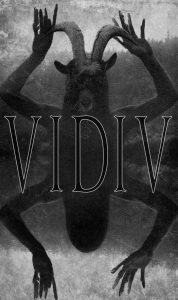 Simon Weins is a Glasgow-based artist and electronic musician. Together with Feronia Wennborg he releases work as soft tissue. Their latest LP "hi leaves" was recently released via the Ohio-based label Students of Decay at the beginning of April.
In his solo work, Simon develops digital networks of synthesis, feedback and adaptive digital processing that are used for improvisation. A current implementation of this setup makes use of neural synthesis – an experimental method for sound production spearheaded by the late David Tudor. Within the network, the neural synthesiser triggers and interacts with collaborating processes, resulting in a range of exciting musical behaviours that are complex and unforeseeable, but never completely random.
'Hi Leaves' examines microsound by way of extended amplification technique, bone conduction, domestic recordings, and digital feedback. Tracks like "plant pot" and "kettle" appear to disclose their source material, presenting wonderfully tactile environments of highly articulate sound. Wennborg and Weins prove themselves to be masterful arrangers of discrete, organic material, weaving together knotty and immersive compositions from these sharp, prickly sounds. Ultimately, soft tissue inhabits an intoxicating soundworld somewhere in between the patient abstractions of composerly EAI music, the haptic indulgences of ASMR, and the diffuse digital pastorals of the 90's a-musik/Cologne scene.