Core of the Coalman
Core of the Coalman, continuous contingency, vicissitudes of self as solo performer: when that self performing itself is Jorge Boehringer performing itself. Performances currently comprise spectral, spatialised, macro/micro-compositions and improvisations, performed with a variety of electronic and acoustic instruments, some homemade. Pieces are layered upon, next to, betwixt, or within one another to form situations that vibrate like stripes of complementary colours or circumstances melting into each other like strata in a landscape or romantics beneath the full moon. Whatever it is, its music, if you but bend an ear.
Eleanor Cully Boehringer
Eleanor Cully Boehringer is an artist and composer from Norwich, based in Newcastle. She makes performances, compositions, installations and music. Eleanor has written for various artists and has had her own work broadcast on BBC Radio 3 and Resonance FM. She has worked collaboratively with choirs, ensembles, visual artists, community groups, young people, and galleries towards new installations and composition projects. Envisaging the relationship between her work and its surroundings, Eleanor often seeks ways of framing and enhancing the listening environment in iterations of her work.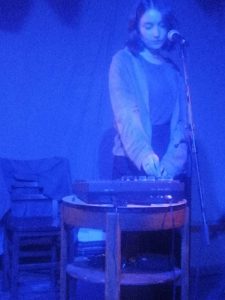 Ike Goldman
Ike has been stuck in the pop honey pot far too long and it's been getting so sticky lately she is no longer sure of the way out. In her dreams she sees herself swimming free in the watery clear saccharine soup but awoken her honey hardens and she is frozen again. With a mess of chopped tape and voices she will attempt a daring escape, but perhaps she has been sipping on that sweet nectar too long. This, at least, is what she tells herself